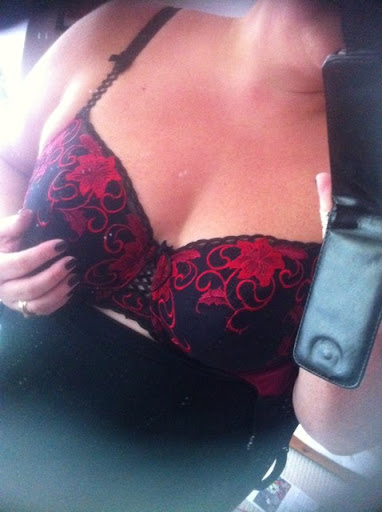 Please if you like my blog drop me a vote, only a few weeks left of voting and my daily averages are slipping!
So if youve been kind enough to vote thank you so much, but please vote again, you know I will repay in filthy pictures of me using them!
and if you havent... why not???
________________________________________________________
Part 1 - THE ARRIVAL
I arrive just moments before him, I blush when I see him pull onto the drive. Excitement makes my legs tramle and I feel like Bambi as I collect my bag from the boot of the car. I follow him into the house, he looks sexy as hell in his pin stripe suite, he has caught the sun while he was away and looks good for it. He steps forward to takes hold of me, kissing passionately. Whilst its been a long 10 days since I saw him as soon as he kissed me it was like I've never been away. I drop my bags and enjoys the passion of the moment.
We come up for air and head to the kitchen to make drinks and put food away. He had bought me a gift, some fabulous pralines from Berlin, it made me feel wanted to know he had thought of me in such a fond way while he was away. We kiss again as I say thank you, his hands wander and he feels how soaked I am,he litterally shudders and gasps, after a moments admiring he drops to his knees lifts my dress and starts lapping at my flesh exposed around my panties he pulls the panties aside and his tongue brushes over my lips, just catching my hood, it feels so good, I urge my hips forward trying to give him more access. For a moment then he steps back to look at me, his face soaked in my juices. He tells me to turn round.
I'm bent over the kitchen bench, dress lifted to expose my ass, he throws down the first of many spanks. Before the next sting is felt I hear his zipper being pulled down. He spanks me again, pulls my panties aside and slams his cock inside me. It was like I'd forgotten how fantastic his cock feels inside me, I was almost surprised by it.
He talks dirty to me as he pounds me hard, I can feel my wetness trickle down my thighs each time he pulls back. It doesn't take long before I'm shuddering and clinging onto the bench as I start to cum, it surprises me, it so intense. He fucks me so hard and beautifully, I'm close to cumming again when he pulls his soaked cock out of me and places his tip against my rose bud, he pushes the tip in slowly then slams it in, he holds me tightly, not moving just letting me adjust and relax around his hardness but it throws me straight into the most wonderful orgasm.
After a moment of deeply fucking my ass he drops to his knees, pulls down my panties to my thighs and buries his tongue inside me, lapping the juices from my cunt to ass and delving his tongue in deep. He works his hand inside me and fists me. I can feel my cunt grip him tightly as he pushes against my gpsot. He stands and in one fluid moment he is inside my ass again, fucking it hard. It feels so naughty being fucked in such an urgent fashion, panties not even off, such a small detail but turning me on like crazy.
I'm getting so wet from cumming I can hear the squelch as his balls contact my thighs. After another knee buckling orgasm we pause for water… I need to keep fluids up the way I'm secreting them! He pulls up my panties, again a small arousing detail, we head upstairs to enjoy each other in more comfort.
He leans against the wall looking at me with a naughty but pleased look upon his face, I walk towards him kiss him and start to undress him. I remove his shirt and tie, he pulls me close, I welcome the body contact. He undoes the ribbon and reveals my underwear, he smiles and admires me. I lie back on the bed, he removes his trousers and remaining items and positions himself between my thighs ready for more pleasure.