Last year I shamefully asked for pictures you masturbating over the blog and you gave generously! Not enough ladies though!! You guys didn't let me down I got some wonderful pictures click
HERE
if you want to see some of them.
this was one of my favs...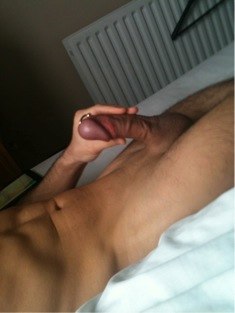 This year I'm asking for the gift of an orgasm  from all blog visitors, thats ladies and gents including you silent lurkers!
I want a sexy picture of anything you think will turn me on along with ONE OF THE FOLLOWING
a) If youre a naughty blogger a link to a sexy post that us 'wank worthy' (and I welcome a shameless plug of your blog for others to read)
b) A naughty thought you've had about me (and YSL if you fancy a virtual moresome) – the more detailed the better
c) Post a fantasy on your blog about us playing together, send the link and I will post that with the picture
d) A link to a porn flick you think I would like
e) Just a simple birthday wish for those well behaved people ;)
You can do it anon if you like, last year had a mixture of anon and shameless show offs and some mailed images just for me not to post which I also very much appreciated the intimate gesture.
Send the images and links/filth to (no spaces just trying to outwit the spam bots) Y U M M Y X 72@ G M A I L . COM preferably before the 30th of Novemeber so I have time to prepare post for the 1st.